Project Overview:
On the banks of Long Island's South Shore, stands a remarkable World War I era home. For more than a century, the home has served as an architectural icon tying together a magnificent blend of past meets present. In 2017, the homeowners began the process of preserving this stately home that has weathered countless storms to bring it back to the beauty and splendor of a bygone era.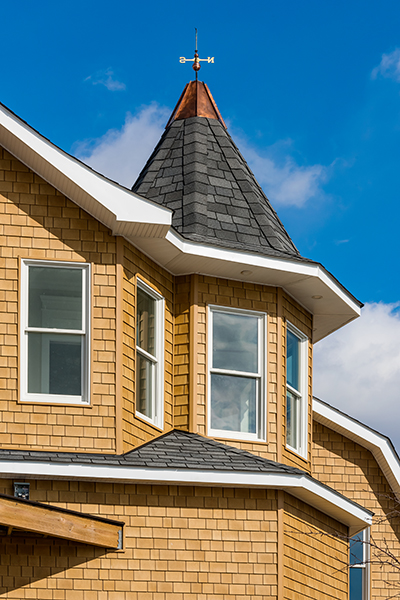 Opportunity:
Early in the home renovation process, the homeowners learned about Beach House Shake - a cladding option that offered the look of natural cedar shingles (which they loved!), but without the maintenance hassles of cedar. Reluctant to re-clad their home with natural cedar due to the daunting amount of upkeep natural cedar would require, the homeowners asked their contractor, Tim White of WI Development,about using Beach House Shake for the exterior overhaul. White was pleasantly surprised by the realistic appearance of Beach House Shake as well as the subtle grains that looked like real saw-cuts. Tim, a fellow Bay Shore resident, had worked with traditional cedar over the years and loves the look of real cedar, but when he saw how nearly impossible it was to tell Beach House Shake from real cedar, he was sold on using it for the home's exterior. Not to mention that with a remodeling project spanning several months, having the first shakes installed still look as good as the last shakes installed is a huge WIN! Now, like many others, Tim White is enthusiastic about this new discovery.
The Result:
So much of this home's character lies in its elaborate details. White found the Beach House Shake worked very well in the restoration process. According to White, "There were intricate cuts and angles on the home's three Victorian turrets, curved PVC trim, as well as a multitude of accents and pediments offset by a copper gable roof. We achieved 45-degree corners with the new shake, and our crew easily shaved off 1/8 inch of material to make it fit." As for the visual impact, White noted, "Adding to the realism, one long panel includes several shakes, all with random patterns and dark key-ways that provide a three-dimensional shadow line."
White also noted that cost efficiencies in the building industry are critical in an era where skilled labor has become increasingly scarce, and the price of shakes and shingles has increased by more than 20% as a result of U.S. tariffs. Considering those external factors and the fewer laborers needed to install Beach House Shake, White estimates that traditional cedar installation can cost up to four times that of Beach House Shake. From beauty and low maintenance, to cost savings, Beach House Shake makes sense.