Project Overview:
Bessemer, Alabama, a city rich in history that sits just southwest of Birmingham, was a rapidly developing industrial city in the late 19th and early 20th centuries. Today, it's filled with small town charm and serves as the perfect retirement or family location within reach of bustling Birmingham. It also has one homeowner, Philip, who was building his dream retirement home in 2018 and had a very specific cedar shake color in mind, but he and wife Michele were at their wit's end trying to find it.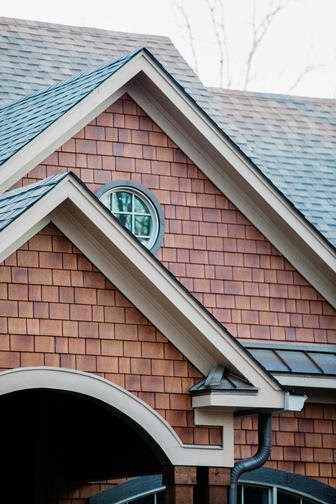 Opportunity:
The homeowners had their hearts set on the look of western red cedar shingles, but they didn't want the ongoing maintenance required to care for natural cedar. That led them to look at manufactured cedar shingles.They looked extensively at many manufacturers' colors and finishes, but they just weren't right - and they didn't want to have to repaint or do any maintenance. "We wanted very little upkeep," explained the couple.
When the local Tando Rep heard about this new construction project, he headed out to introduce Philip and Michelle to Beach House Shake. At the time, Pacifica, the color that perfectly replicates western red cedar, was still in development, but when Philip saw a sample, he exclaimed "that's it", and they were willing to wait six months for it to be produced.
"Michele and I fell in love with it! Beach House Shake in Pacifica was the answer to our prayers," said Philip. "We created an entire color décor palette around our house to match it."
The Result:
Once the product arrived from the dealer, American Wallzone in Pelham, the Beach House Shake went on quickly and easily. And even with only two installers working on the job, it met the homeowner's expectations on timing. Contractor Paul Robeson, of Robeson Vinyl, said the Beach House Shake was lightweight and the panels went up "like clockwork" with traditional tools, which saved on time and labor.
"We're amazed at how many people are fooled by Beach House Shake," said Philip. "They think it's cedar. A friend who operates a cedar mill created a 12 ft. pergola for us and even he thought it was authentic cedar, and he works with cedar every day!"
In addition to being low maintenance, Beach House Shake is impervious to moisture and perfect for ground contact and roof line applications. And, in keeping with the popular trend of mixed materials, the Pacifica color perfectly complemented the light green vertical board and batten, as well as the stone veneer on the foundation's exterior.
"The effect of the mixed materials is stunning – the board and batten, windows in clay color and copper cupola on the garage as an accent," said Philip. "We are extremely pleased with Beach House Shake – it was worth waiting for!"
The retirees now have their dream home, a beautiful craftsman with the natural look of cedar shingles, plank siding, and stone, but with none of the maintenance worries! Needless to say, they were more than happy to replace the exterior upkeep with peaceful relaxation so they can actually enjoy their retirement.