Tando® Extends Popular Color, Mariner Blue, Across TandoShake® Product Lines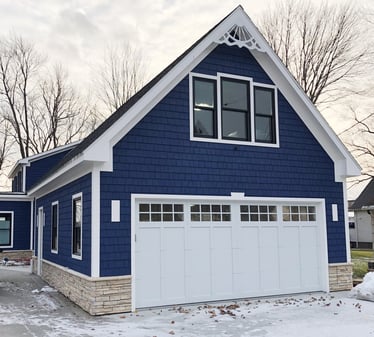 March 15, 2021
Quebec City, Quebec – Tando, a brand of Derby Building Products, announces the extension of Mariner Blue, an industry 2020 Color of the Year, across four additional lines of award-winning TandoShake. Previously available only in Cape Cod Perfection, Mariner Blue will now be offered in the TandoShake RoughSawn Cedar (Single and Dual), Hand Split Shake, and Rustic Cedar 9 lines. Mariner Blue is an on-trend shade that Tando introduced in 2019 with the expectation that the color would dominate exteriors in 2020 and beyond.
"Inspired by the elegant deep blues in coastal home design, Mariner Blue is a classic color that will remain essential to exteriors for years to come," said Michael Morris, VP of Sales, Derby Building Products. "If the success of Mariner Blue in Cape Cod Perfection is any indication, extending it to our other shake lines will be a win-win for homeowners and contractors looking for this popular color in our other profiles."
TandoShake products are the perfect low-maintenance option to enhance any home style and add instant curb appeal. With varying shingle heights and widths, combined with a broad range of wood grain textures, TandoShake provides the true, hand-crafted appearance of wood shakes.
RoughSawn Cedar (Single & Dual) features a long, subtle grain, 6 ½-inch exposure, and evenly aligned shingles. RoughSawn Single is perfect for dormers and peaks and helps minimizes waste during installation. RoughSawn Dual provides greater coverage for larger walls.

Hand Split Shake' iconic profile captures the rustic, rough look of hand-cut cedar with random grooves and a 7-inch exposure.

Rustic Cedar 9 is perfect for creating a mixed material finish, featuring a 9-inch exposure with deep grain texture to complement any combination of siding materials.
Impervious to moisture and resistant to severe weather, TandoShake's broad range of profiles deliver lasting durability with very little upkeep required. High performance and aesthetics make TandoShake an ideal solution for ground contact or roofline applications.
TandoShake's RoughSawn Cedar, Hand Split, and Rustic Cedar 9 are also available in eleven additional solid colors and six additional shades from the TandoShake Natural Color Series. For more information about TandoShake's new Mariner Blue profiles, and to see all colors offered across the TandoShake product lines, visit www.tandobp.com.
About Tando

Tando's exterior building products leverage innovation and manufacturing technology to solve market challenges such as labor shortages, long lead times, and moisture concerns all while meeting consumer demand for mixed material exteriors and low maintenance. From launching the first polymer shake over 40 years ago to developing the #1 brand of Composite Stone, Tando has a proven history of creating new categories, including TandoStone®, Beach House Shake®, and TandoShake®. Tando is owned by Derby Building Products. For more information, visit www.tandobp.com or www.beachhouseshake.com.